The Elmore County Commission is putting the pedal to the metal to determine which roads and bridges it will use Rebuild Alabama funds for and urged the county's mayors last week to seek joint projects to stretch the dollars further.
"This is an unprecedented time in Elmore County with people working together and moving us forward," state Sen. Clyde Chambliss told the mayors in a meeting at the county courthouse July 9.
Commissioners in all counties and councils in all municipalities must have their plan to use Rebuild Alabama funds approved before Aug. 31. The gas tax increase of 6 cents per gallon approved by the Alabama Legislature and signed by Gov. Kay Ivey earlier this year will take effect Sept. 1. The tax, which is to be used strictly for infrastructure projects, will eventually increase to 10 cents a gallon by 2022 and provide Elmore County $1.2 million annually when fully implemented, according to county engineer Richie Beyer.
The county is projected to receive $732,049.92 in the first year of the gas tax increase and is budgeting $625,000 for road and bridge projects, Beyer said.
The county and cities can also become partners to apply for extra money from an Alabama Department of Transportation pool of up to $50 million a year and a $10 million local transportation grant.
"There's an opportunity for us if we approach things the right way," Beyer said. "We want to talk about joint projects. We hope the smaller municipalities will take advantage of this."
During last week's meeting with the mayors, the county released how much each city and town can expect to receive in Rebuild Alabama funds the first three years. For 2020, it ranges from $12,350.33 for Eclectic to $66,857.59 for Millbrook.
"It's tough to get enough bidders on the smaller amounts," Beyer said. "That's why we'd like the smaller municipalities to combine their projects with the county's. That will make it easier."
Beyer elaborated on several resurfacing projects that could be included in the first year, including Old Rifle Range in the Wetumpka area, Mercer Road in the Elmore area and Oak Tree Road in the Millbrook area, some of which could be split between the county and cities.
"Those are typical county roads being considered," he said. "A mix of preservation projects, most of Mercer and Oak Tree roads, and rehabilitation projects — Old Rifle Range and a portion of Mercer Road — epitomize the vast number of candidate roads in need of work that the county commission must narrow down to fit within the approximately $625,000 first-year budget. As the funds increase over the next two years over full implementation of the Rebuild Alabama program, so will the number of roads that can be addressed.
"Mercer and Oak Tree also have the added element of potential partnerships. With portions of the road lying within Elmore and Millbrook, a joint project could completely resurface these roads while providing a greater benefit for the all citizens in those areas."
County commission chairman Troy Stubbs said good roads and bridges are mandatory for the county to continue growing responsibly.
"There are people in the River Region who are going to be moving somewhere, a flight to quality —  to Pike Road, Auburn, Elmore County, Autauga County," he said. "We want to grow the right way in an organized and efficient manner."
The gas tax increase will help and Chambliss, who played a major part in getting passed, told the mayors Ivey was determined to see it become law.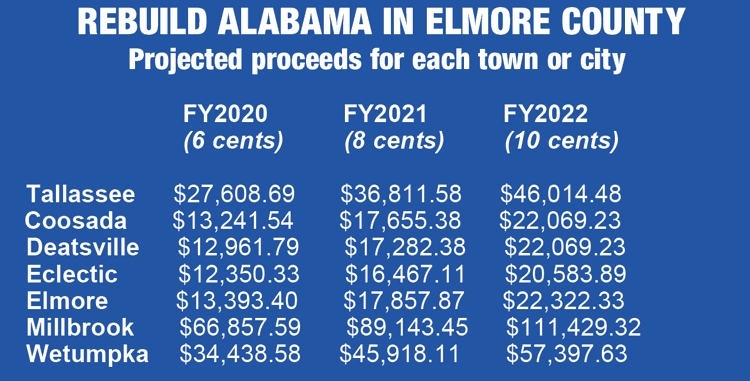 "The gas tax was a tough vote but it was time," Chambliss said. "We needed it. Our infrastructure was aging. I remember going to talk to Gov. Ivey about it and another (legislator) got to her first. He said, 'Governor, I'll support (the gas tax increase) if you support this,' and she said, 'I am not making deals. You'll support this because it's the right thing to do or you won't support it.' I'm glad I didn't ask."
Now, counties and cities don't have to ask for help. County engineering supplements from ALDOT are mandatory under the new law, and counties will exchange their normal federal allocation of $533,000 annually for $400,000 in state funds beginning Oct. 1.
"That will help us cut through federal red tape," Beyer said.
Counties will begin receiving 25% of the new fuel levy no later than January 2020 and 50% must be used through contracts.
Cities will begin receiving 8.33% of the new fuel levy no later than January 2020 and, again, 50% must be used through contracts.
The county also has many long-term projects that will require additional funding from ALDOT, Beyer said. Those in the next 10 to 20 years include a new river crossing in Tallassee, adding a southbound lane bridge on U.S. Highway 231 and widening Alabama Highway 14 from Wetumpka to Tallassee.