City and state leaders and members of the Millbrook community united on Thursday, July 29, for a groundbreaking ceremony at the site where the new Millbrook Senior Center will be erected.
Stuart Peters, Millbrook's project manager, said the new senior center has been at least three years in the making. The 4,400-square-foot facility will include classrooms, garden space, a full kitchen, office space, plenty of storage space, a quiet room and 100-foot, 10-feet wide front porch. 
"We wanted something that looked like a ranch style house, nostalgic, and I wanted a big front porch," said Millbrook Mayor Al Kelley. "Well, it has a front porch that's 100 feet long, so there will be plenty of room for rocking chairs and dominoes."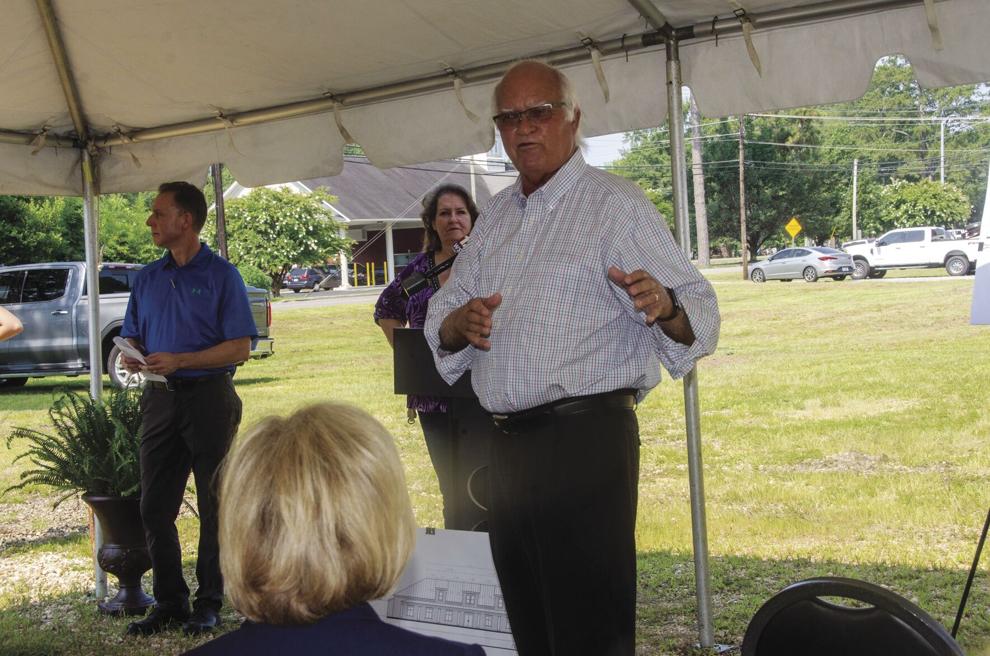 Peters said the new senior center was made possible through a partnership with the city of Millbrook, the Alabama Department of Economic and Community Affairs and the Central Alabama Regional Planning Commission.    
"My heart is spilling over with joy," said Olivia Venable, the city's senior programs administrator. "When I said we needed a senior center, everyone got on board. I'm so grateful and thankful for our city and state leaders for enabling this to happen. I can hardy wait until we're in our new building. We have strong community that was built through the efforts of our seniors in years past, and now we want to take care of them by giving them a space of their own."
As of right now, the center serves about 40 in-person meals and delivers about 50 meals on a daily basis. The center has been operating for 30 years in a roughly 1,500-sqaure-foot space inside Millbrook's Memorial Center. Venable said the additional space is needed and will be put to great use.
"Our senior citizens are loyal and dedicated," Venable said. "They show up rain, hail, sleet or snow, and they don't want to leave when it's time to go. This new building will help us expand our services so that we can reach even more people."
A $250,000 Community Development Block Grant from the Alabama Department of Economic and Community Affairs is offsetting the cost of the $1.1 million facility for the city. By design, the center will be nestled in the heart of the city on Grandview Road, close to Millbrook City Hall, Millbrook Fire Department, Millbrook Police Department and other city buildings. Peters said the goal is to make city resources easily accessible for senior citizens. 
The new senior center is projected to open in April 2022.
"I just can't thank everyone enough for helping to make this happen," Kelley said. "It's going to be a beautiful facility when we're all through, and I couldn't have asked for a better cheerleader than Olivia Venable. She does a great job with our seniors."