After more than a year of running her business out of her home, April Hensley now has a permanent location for Hensley Creek Candles.
A ribbon cutting hosted by the Wetumpka Area Chamber of Commerce and grand opening event was held on Thursday, July 22, at the business's new location, 10940 U.S. 231.
Anna Chappelle, the chamber's director of development, congratulated Hensley on the opening of the store, calling her success an inspiration.
"Entrepreneurship is the lifeblood of our community," Chappelle said. "It's just really amazing how this business has grown."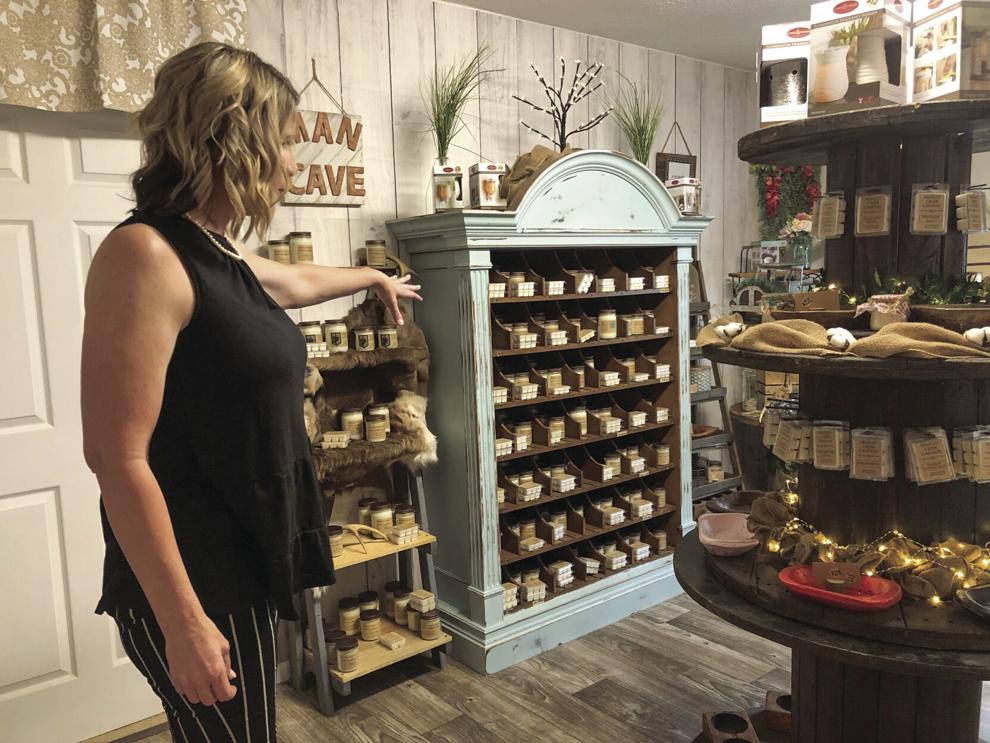 Hensley said it took about a month for her to get the 852-square-foot space ready for opening day. The space includes a show room where available products are on display, a pour room where all the candles are made and a storage room.
"It took a lot of blood, sweat and 3 a.m. nights, but it's all a blessing that's for sure," she said. "God is solely responsible for this coming to fruition the way it has. With COVID and everything that came along with it, there were so many factors that could've deterred this."
Hensley became the owner of the company on March 1, 2020 after purchasing the business from a friend who wanted to get out of the candle-making business.
"I bought the company because I was looking for a way to generate some extra income," she said. "I poured the first candle and I was in love."
A little more than two weeks later on March 19, which happens to be Hensley's birthday, Gov. Kay Ivey issued statewide restrictions due the global pandemic.
"I'd just invested my money into this business," Hensley said. "I dropped down on my knees and asked the Lord to show me the way – to show me the path forward."
Hensley took her business online and that's where it boomed during the height of the pandemic. Her first time being able attend craft show/vendor market was at Lake Martin during the 2020 Fourth of July weekend.
Hensley Creek Candles quickly became a sought-after business. She began getting invitations to vendor markets throughout the area. As the business grew, it slowly began taking over her home.
"The kitchen, the living room, the bedroom –we've poured candles in every room except the bathroom," Hensley said.
Hensley said she knew she needed to move the business into its own space if she wanted it to continue growing at the rate that it has. From boutiques, flower shops and hair salons, Hensley's products are now sold in 12 states and she's looking to grow the business even more.
Now that the store has opened, Hensley said she plans to begin hosting community events. This fall, Hensley will offer Corks and Candles, an event where residents can make their own candles while enjoying wine and beer.
She also has plans to partner with a winery to offer Sips and Scents, an event where patrons will be able to smell specially curated candles while enjoying a wine tasting.
Soap-making classes for all ages is also in the works. In December, she's set to host Cookies, Candles and Claus, which will feature Santa Claus on the front porch taking pictures with the public. 
Hensley Creek Candles is open on Tuesdays from noon to 8 p.m., Wednesdays from 10 a.m. to 6 p.m., Thursdays and Fridays from 10 a.m. to 8 p.m. and Saturdays from 9 a.m. to 2 p.m. The store is closed on Sundays and Mondays.
For more information about the business, follow the Hensley Creek Candles Facebook page.