Family members and friends of graduating seniors from Wetumpka High School packed the Wetumpka Sports Complex on Tuesday, May 18, for the school's commencement exercises.
After welcoming everyone to the graduation, WHS principal Dr. Robbie Slater rattled off the many accomplishments of the 263-student senior class. Fourteen seniors scored a 30 or above on the ACT and the class amassed more than $7 million in academic and athletic scholarships.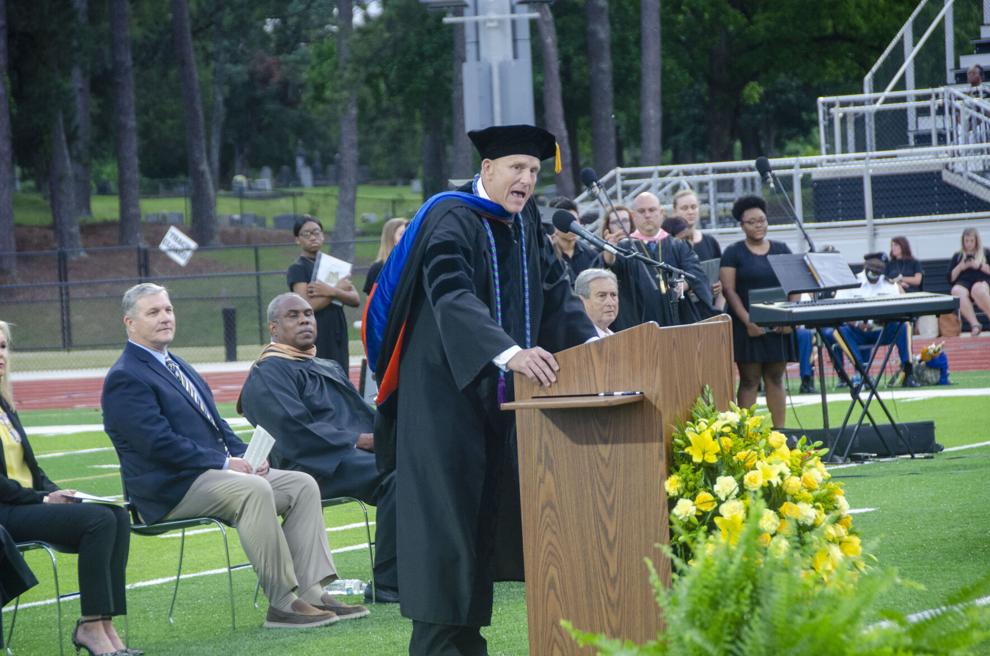 Just to name a few: There's a Joe Sewell Award overall winner and one category winner, a Bryant Jordan scholarship winner, a 6A javelin state champion for track and field, a second-place winner for the triple jump in the indoor state track and field meet, several seniors enlisted in the military, the school's robotics team is once again nationally ranked, the robotics team's Go Baby program helped area families in need, the theatre guild presented two productions, several band members were named to honor and all-state bands and one choir student made the All-State Choir.
"These are just some of the many accomplishments of this senior class," Slater said. "And just think, you did all that with all the restrictions and obstacles to overcome. You did not only overcome them, you made it graduation tonight. Whether it's on the field, in the classroom, cheering on a fellow student or just supporting others, each one of you have played a part in making this school year a success."
After the presentation of the colors by JROTC Color Guard, Senior Class President Morgan Causey, who is also the valedictorian, addressed her fellow classmates for the first of two times that night.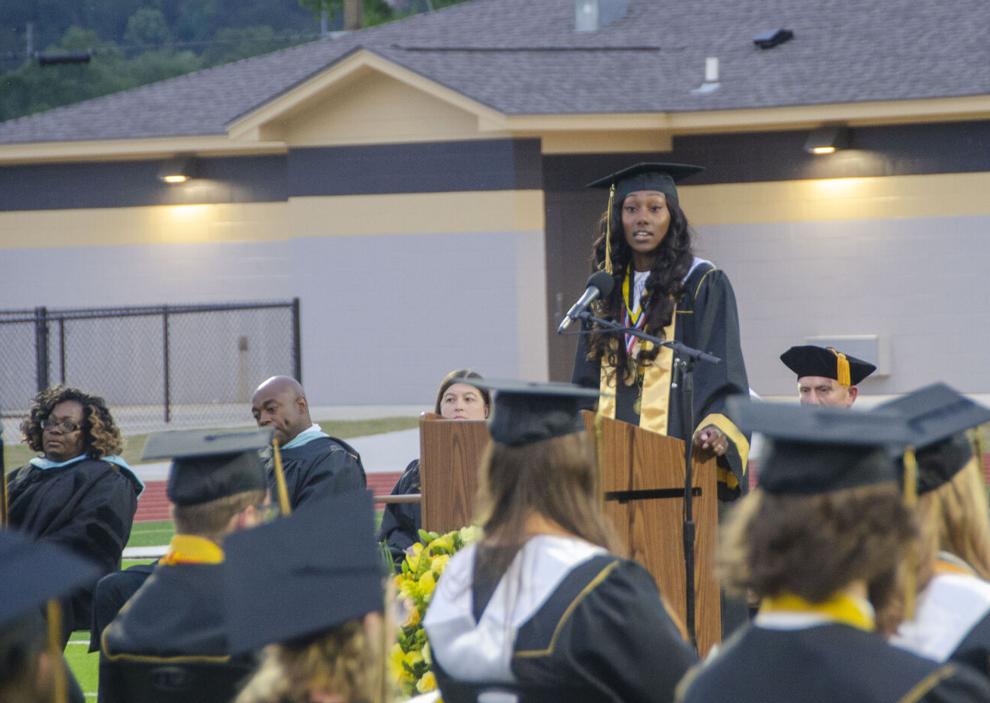 "They always say there's a first time for everything and this year we proved just that," she said. "We didn't just overcome a national pandemic, we survived it. We were blessed with the opportunity to experience full seasons of all the extracurricular activities available to any student at Wetumpka High. Even amidst a year of adversity, the sky was the limit and our ability to make adjustments, be flexible and accept things for what they are allowed us to have a great school year filled with memories to last a lifetime."
Before salutatorian Madeline Burbank, known by most as Chase, took to the stage to address her classmates -- WHS assistant principal Rahman Bell listed a few of her accomplishments. Burbank was heavily involved in STEM-related extracurricular activities and achieved much success in that area. She served as the head of technology and lead programmer for STEAM Machine, she was a member of the Cyber Patriot team that won first place in the state gold category, she also competed in the science fair, Science Olympiad and was a Gorgas finalist.
Four different colleges offered Burbank more than $44,000 per year in scholarships for up to four years of college. She ultimately decided to attend the University of Montevallo and intends to major in computer science with the goal of becoming a computer programmer. Burbank completed high school with a GPA of 4.383.
During Burbank's speech, she reflected on the various ways she and others have changed over the years.
"As we graduate, it's important to look back over the years and see what brought us to where we are," Burbank said. "We've all changed over our high school years -- some of us more so than others. It's been everything from the handful of students who have discovered their identity, to the many relationships that began and ended, to the people who've realized that the career they thought was for them wasn't really what they wanted to do with their life. Each of these changes were important in their own way. Many changes lie beyond just the scope of the individual, though. We've grown to be able to work with each other to be able to accomplish a required task and work toward betterment."
Although the days of high school are fleeting, Burbank it's a time that will never be forgotten.
"With us all, we've created a large network of friends that, while they may not last us a lifetime, will grant us fond memories that we will cherish for the rest of our lives."     
Causey once again took to the stage, but this time it was to deliver her valedictorian's address. During her time at WHS, she was a part of the volleyball, basketball and track teams. She was also a member of the theater guild, in addition to serving as senior class president, a member of the Beta Club, Tribal Council and Fellowship of Christian Athletes. She was selected as the runner up for the Distinguished Young Woman of Elmore County, the winner of the Bryant Jordan Scholarship for Class 6A, the 6A javelin state champion, the Elmore County Volleyball Player of the Year and a Joe Sewell Award overall winner.
She was accepted to multiple universities and was offered more than $213,600 in scholarships. She will attend Louisiana State University on an academic scholarship where she will major in criminology and law. Causey graduates with a GPA of 4.393.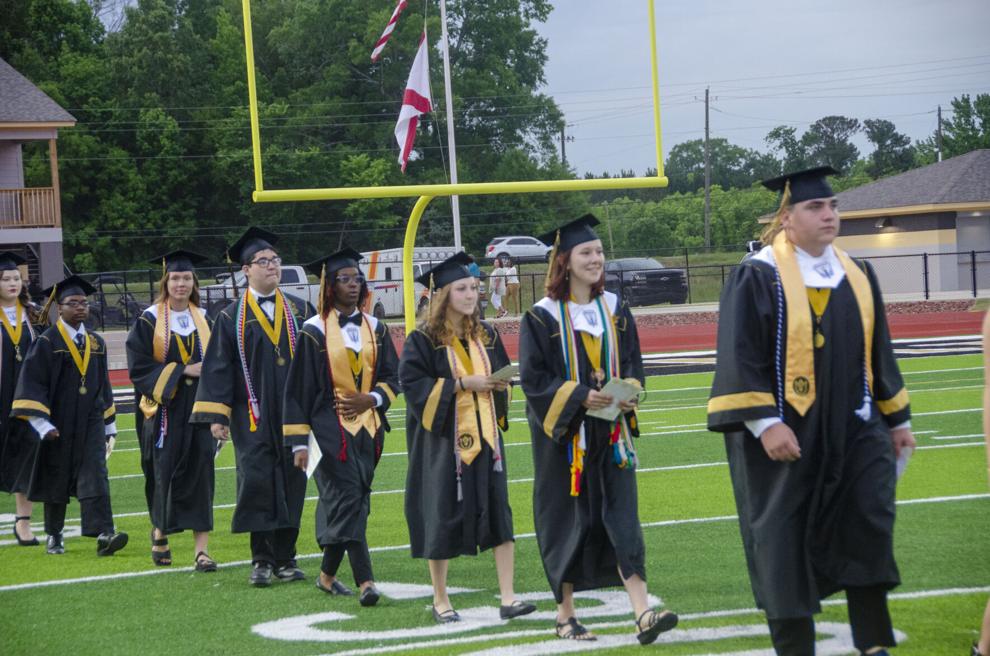 While addressing her classmates, Causey said that graduation signifies the transition from childhood to young adulthood. Though it is bittersweet, she urged her classmates to "look toward the future with open eyes, to accept new ideas with an open mind and form new relationships with an open heart."
She reminded her classmates that they are bigger than any obstacle the may encounter in the future.
"The good thing about the future is that nobody knows what's going to happen until it does," Causey said. "When you leave here today, take pride in the idea of knowing that nobody holds the pencil to write out your destiny except for you. I know all of us have a bright future in front of us and I cannot wait to see each of prosper in everything that we do."