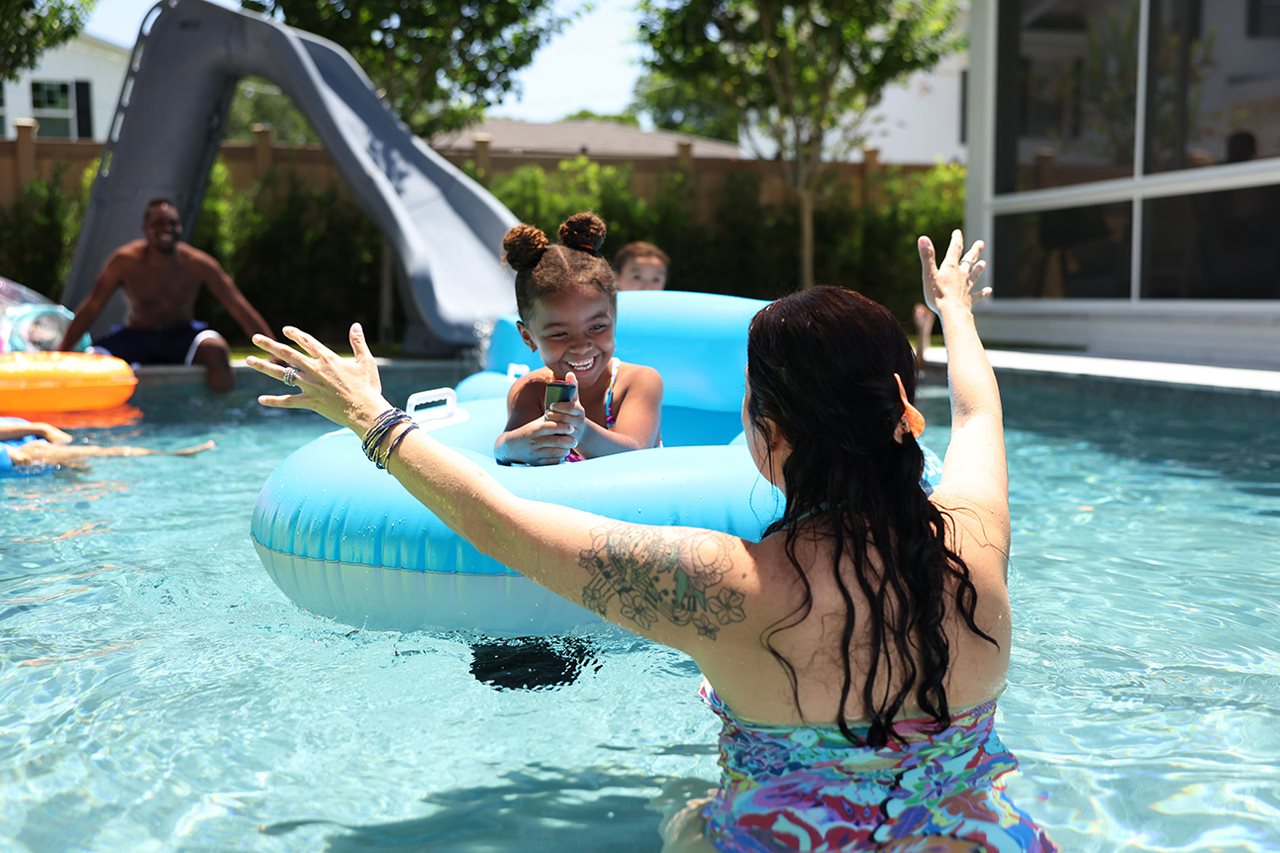 (BPT) - Summer brings with it a lot of sun, fun and outdoor playfulness, including splashing and swimming in the pool. Parents and caregivers should take this opportunity to brush up on important water safety recommendations before opening up the pool and jumping in the water this year.
Follow these three pillars of water safety to help ensure that your kids stay safe and healthy while having a blast in the pool all summer long.
1. Maintain healthy water
It's crucial to keep your pool water healthy and balanced. Even if it looks clean, you need to test your pool regularly to make sure the water is chemically balanced and safe for swimming. Properly balanced water helps your sanitizer (chlorine) work most efficiently, while your circulation and filtration system works to maintain clean and healthy water. Beyond clearing your pool and skimmer basket of debris and vacuuming as needed, be sure all your filtration equipment is working correctly, and shock the pool weekly to maintain the proper chlorine levels.
The only way to know your pool water is safe, sanitized and chemically balanced is to test it. For the most comprehensive and accurate analysis, bring a pool water sample to your local Leslie's once a week for free in-store water testing.
2. Secure the area
No matter how old your children are, it's vital to ensure safety in and around the pool. You must also check with your municipality to confirm you are following local, state, and federal regulations regarding safety fencing and gates for your pool.
Leslie's carries everything you need to secure your pool area.
Alarms help guard against accidents and unwelcome pool intruders. You can get door and gate alarms that alert you when they are opened, and in-pool alarms that can detect disturbances in the water. It's also a good idea to keep a safety ring or shepherd's hook nearby.
Fencing and locking gates around the perimeter of your pool will discourage unwanted neighborhood swimmers and help keep young children and animals from entering the area unattended. All gates should open away from the pool, and self-latching mechanisms should be out of reach of young children. Each municipality has minimum height standards, but most are 5 feet or higher.
Safety covers are primarily used when the pool is not in use, such as during colder months. These covers are designed to keep both animals and children from falling in the pool.
Remember, there's no substitute for supervising children in and around the pool. Make sure you know where your children are at all times, and that there is always a designated water watcher to supervise children near water. Set rules for safe pool usage and remind your children that they can only go near the pool if there is a responsible caregiver with them.
3. Learn to swim
One of the best ways to help safeguard your family against swimming pool accidents is to teach kids how to swim. Most kids enjoy learning how to swim, and that skill can help increase their safety while they're in the pool. You can also help kids while they're learning with swimming aids from Leslie's.
Nothing is more important to Leslie's than safety, which is why they are raising funds to support the water safety efforts of two partnering organizations — the YMCA and the Boys & Girls Clubs of America. To support their communities through water safety education, swimming lessons, and lifeguard training, Leslie's is accepting donations in all store locations and online through October 31. 100% of all donation funds will be split equally between the two organizations.
Learn more about the different layers of water safety at LesliesPool.com/pool-safety.