My parents got divorced when I was in middle school. After that, it was just my mama and I. 
The dynamic changed a bit. We have been close since I was born — I mean really tight. But this was different. We were on our own, just us girls. We could do whatever we wanted to. We were "big," as we called it.
And so began the era of being big.
We weren't scared to be alone, but I did start to sleep with her in the bed just because we could. A lot of things we did were just because we could.
We listened to The Beatles and Loretta Lynn as loud as we wanted in the house while we cleaned, cooked or did whatever. We ate whatever we wanted for supper. It didn't matter; it was just us and whatever made us happy worked.
We found an amazing, gold, vintage couch at Goodwill one day and it was half off its already low price. I think it was 20 bucks. We wondered if we should get it and quickly decided we would since we were big. It didn't matter if anyone at home liked it because guess what? It was just us now. 
It was about 10 feet long and after the high of buying it wore off, we realized we somehow had to get it into our small KIA Sorento SUV. You guessed it — we were big and made it happen. 
We tied it with an old belt we found in the car and it was halfway out the trunk but it was secure enough, kind of.
It was a long, slow 45-minute drive home but when we got home we felt bigger than ever. Every time we looked at the couch we remembered that day and what we conquered. It was a symbol of what we had conquered in life so far and what we'd continue to overcome.
While being two women — a single mother and her teenage daughter — on our own might have seemed like a challenge, it wasn't for us. Mama was always the one who did it all in our household, but once there was no longer a man under our roof she officially became "the man of the house." For example, our garbage disposal broke and she fixed it herself. She didn't call and hire a man; she did it. Mama could do anything — I'd always known that — but now it was proven. We didn't need a man.
We went on like that for a little while until Mama came home one day, sat on my bed and told me she had a boyfriend.
I was in complete and utter shock.
She'd been dating him for a very short time before telling me but couldn't hold it in any longer; we were too tight to keep secrets.
She told me he was older than her but from a generation that knew how to be a good man and how to treat women. I understood and knew if she had accepted him into her heart, he must be the one for us. 
That's the thing; it wasn't just her. It was us. 
And that's how my dad — technically my stepdad — came to be one of us. He was a part of our little life and while it was no longer just us girls big and alone, it was just as good. 
Mama calls him Hubba, as does everyone else who knows us. So that's what I call him too, even if that seems a little weird. Random people around town will ask, "How's Hubba doing?" as if that's truly his name. Some people may not even know his real name is Jim. He's just Hubba. 
He accepted us for everything we were and loved us fully and unconditionally from the moment he stepped into our lives, and almost a decade later he's still doing that and more. He knows just what we need and how to take care of us. He's gone out of his way for us a million times and continues to do it without getting tired of it. He never complains and he's always patient.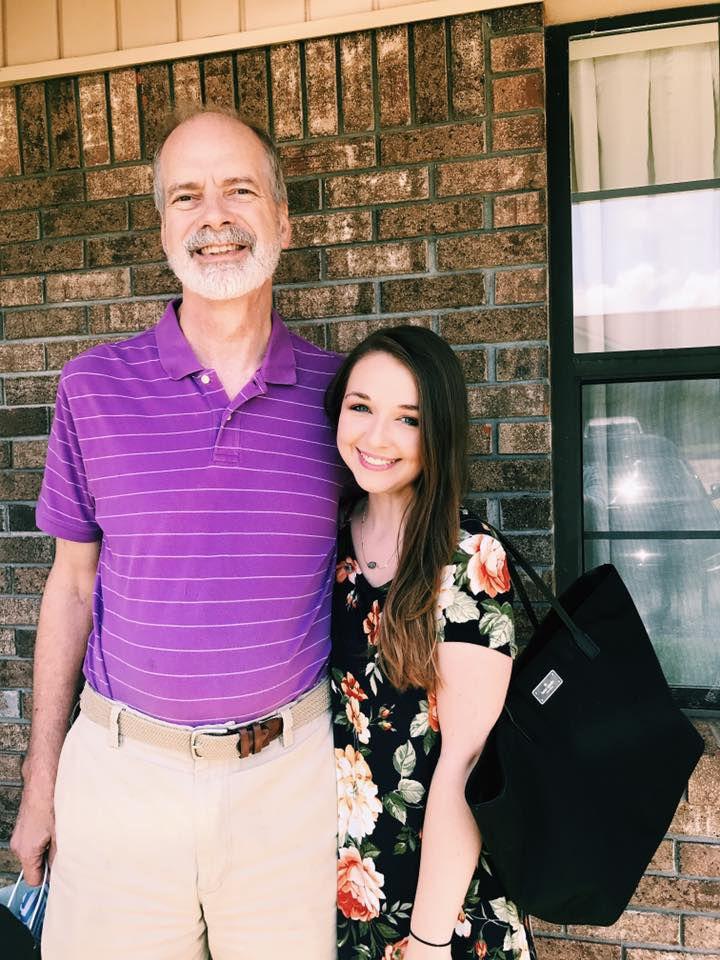 Almost two years ago now, he survived West Nile Virus, which gave him meningitis and encephalitis and landed him in the hospital for almost a month. He had all the odds against him — being over 50, having diabetes, having rheumatoid arthritis — and it didn't look good. He couldn't talk, walk or eat; he had tremors and hallucinations; he didn't always recognize me and didn't recognize other family members at all; he couldn't answer basic questions about his own name and birthday.
The doctors rushed us out of the hospital, but he needed to be there much longer. They hurried to get us into an in-patient rehab facility but Mama refused to let him be anywhere other than home with her. So she took care of him for months while he was on a feeding tube and living from a hospital bed in our living room. He had physical, occupational and speech therapy at home to re-learn how to speak, walk and, when he was able, eat, go to the bathroom, get dressed, etc. 
It was almost too much to bear; the man who had stepped into our lives years ago and taken care of us was now at rock bottom and it didn't seem like he was coming back. We didn't think he'd ever be the same again. Permanent brain damage was pretty much a definite. But he was one of us and we were in it no matter what. We just hoped there would be some light at the end of the tunnel, if we ever got there.
We finally got there and he is now 100%. He's back to the old Hubba he used to be and it's truly a miracle. He teaches full time at Troy University, walks 16 to 18 miles a week and knows all the facts about pretty much every song ever written and a lot about movies and television shows, too. He's really dang smart. 
He's an incredible person and he's our own personal hero. 
He changed our dynamic but he changed it for the better. He's one of us and while we thought we'd always be alone, now we can't imagine life without him. He's the man we didn't know we needed — the dad I didn't know I needed.
Here's to you, Hubba. Thanks for being my dad when you didn't have to be, for loving me no differently than your own and for always being my biggest fan. Thank you for loving me as much as you love Mama and for knowing we were a package deal. Nothing could come between us girls but we let you in, and I think we'll keep you forever.