Elmore County came out firing on all cylinders Friday night, draining corner threes and out rebounding Horseshoe Bend to win, 59-30.
Despite being outscored, the Generals played hard for coach Chad Kison until the final whistle and showed they aren't giving up no matter what the scoreboard says.
"I saw some learning and inexperience," Kison said. "I played five guys a lot of the game. We have five guys that have played before out with illness so I'm struggling for players right now. But they still worked hard. In the first half I thought we played well, (Elmore County) got hot from three and they have a good basketball team with good shooters. When we go (Class) 5A versus 2A, we are outmatched and we just wore down in the second half."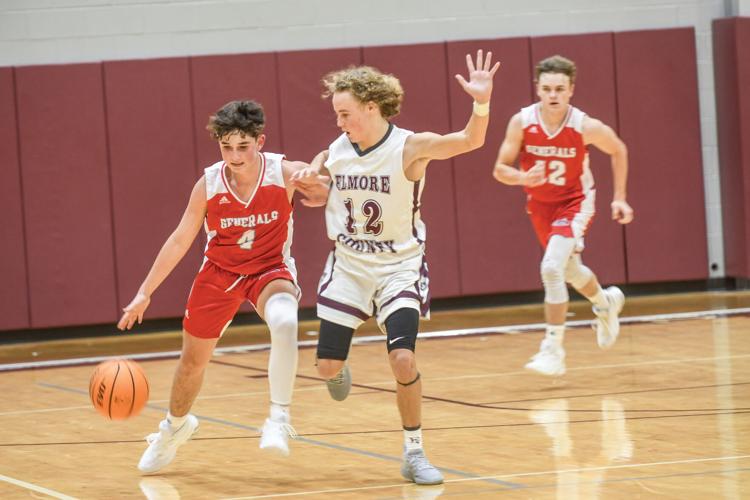 Defensively, the Generals did some things well and made life in the paint difficult for the Panthers. It was the offense that struggled against the size of Elmore County's big boys on the block.
"Offensively we've got to get better," Kison said. "We've got to move a little bit better but hopefully the scoring will come as we get guys back healthy."
According to Kison, his team ran out of gas in the second half, which led to Elmore County pulling away from the Generals.
"The difference was us getting worn down and them making a bunch of threes," Kison said. "They got hot and came down and made three or four in a row and there's really no coming back from that."
Although disappointed with a loss, Kison found signs of encouragement for a team trying to get its legs underneath in the early part of the season.
"I saw my point guard (Klark James) grow up a little bit," Kison said. "He was shaky in the first half but kinda got into it in the second half and kinda came into his own; he's only a sophomore making his first start. I think he learned a little bit, figured out what to do and got in some right situations. We were a little streaky shooting the ball but I'm hoping we can continue to get better."
Elmore County coach Rodney Taylor was excited with the victory and believes this Panther team could be one to watch out for down the road.
"Really good game," Taylor said. "From the get-go, for the first few minutes it was sloppy, but I think as the game went on we got more energetic. We shot the ball really well. We had six kids hit threes (Friday night). Our athleticism showed (Friday night). Defensively we played overall really well, probably one of the best early games we've had in my three seasons here. If we can continue to shoot the ball and play defense the way we did (Friday night), we are going to cause some teams some problems."
Elmore County looked to be in trouble early with starting point guard Payton Stephenson getting into foul trouble in the opening minutes of the game, but Stephenson was able to reel it in and prove why he's a top player for the Panthers.
"Look, Payton is the best player on the floor and make no bones about it," Taylor said. "I told him those were not smart fouls from a very smart basketball player. I told him he can't get into foul trouble early and come sit next to me and put the rest of the team in that situation. He makes my job so much easier — having a guy that has the IQ he has and can play, coaching is easy, so I need him on the floor."