Aubrey Allen collected three RBIs and hit a home run across just seven at-bats in 2020.
But due to her importance in the pitching rotation, Allen is not going to be put in a position that could risk injury. Even if Elmore County head coach Mark Segrest knows how effective she is at the plate.
The junior has thrown 89.1 innings for the Panthers this season, 59 percent of the team's total innings. No other hurler has more than 38.2.
Through the combination of a stout repertoire of pitches, dizzying spin and consistent control, Allen has emerged as one of the Elmore County area's best in the circle. And she's peaking as the second half of the Panthers' season is starting, having allowed just two total runs across her last 30 innings of work.
"Being able to get on top of hitters and get ahead in the count has been big for her," Segrest said. "Because she does have really good movement and it creates issues for the batters once she gets ahead in the count."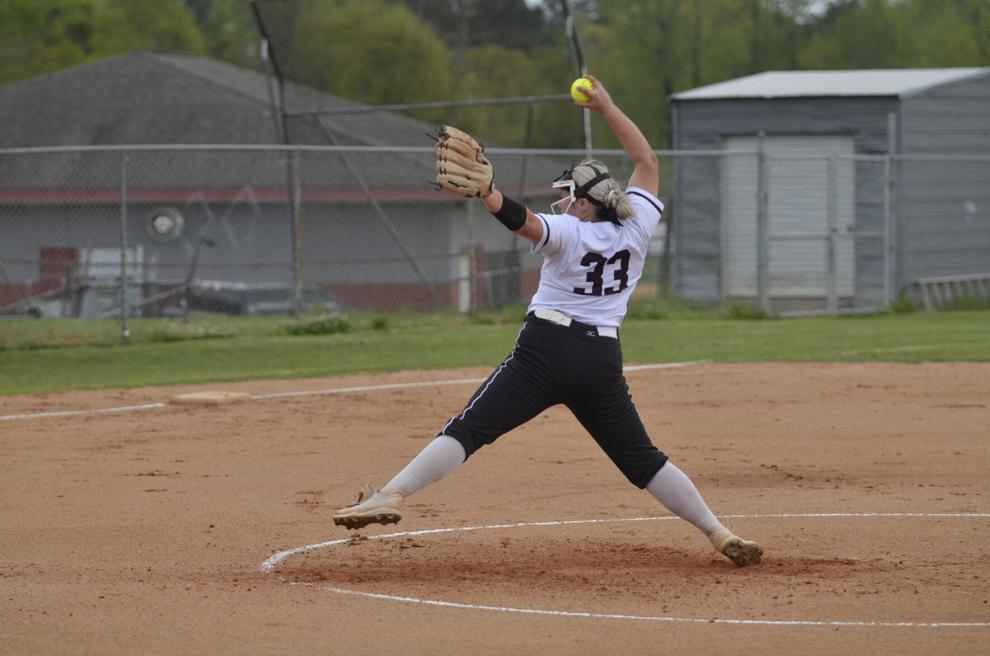 Segrest said Allen isn't one to overwhelm opposing hitters with high velocity. What makes her effective is the spin and break she's able to generate on her pitches.
She controls that spin well, too. She's issued only 17 walks on the season against her 139 strikeouts.
Allen said her best pitch is her curveball.
"The break on it is pretty decent, and I can put it on different planes," Allen said. "Normally I'll use it to get a strike."
Her pitching arsenal is also stocked with a fastball, riser, changeup and screwball.
Segrest said the combination of Allen's curveball and screwball are key for her ability to work both sides of the plate.
"The screwball is a pitch that runs in on right handers, and I almost equate it to a slider in the baseball world," Segrest said. "If you had a left-handed batter, it'd be moving in on the left hander."
Commanding the circle with her five pitches, Allen has posted a 15-2 record with a 1.10 ERA this season.
Those numbers break away in comparison to what she's done in her last five appearances, however.
After tossing 3.1 innings of shutout ball to pick up a win against Loveless Academic Magnet Program, Allen tossed a complete-game shutout with 13 strikeouts against currently 18-10 Wetumpka. She followed that up with another complete game, surrendering one run against Pace in a 2-1 Elmore County victory.
In her most recent outing, Allen allowed one run in six innings against Stanhope Elmore.
But the crown jewel was a complete-game, one-hit, one-walk shutout against Navarre. Allen allowed four total baserunners, two via fielding errors, retiring the first 10 batters she faced. She came within three outs of a no-hitter.
It was a necessary outing for the Panthers — they won by a score of 1-0.
"It just gives me a sense of motivation, just to keep going and keep doing what I'm doing," Allen said. "There's always room for improvement."
In low-scoring wars like those Elmore County waged against Navarre, Allen faced high-pressure situations where she had to record outs to deliver her team a win.
Segrest said one of Allen's biggest strengths is her performance in such scenarios, and that she's always focused on the next pitch regardless of how the last one went.
In crunch time, Allen often draws on the lessons she's learned from watching her "idol," former Alabama pitcher and four-time All-American Jackie Traina.
"Watching her pitch, and even working at home with my dad and working on situational pitching, and getting ahead in the count, and also working from behind — it's best to keep calm and trust your mechanics," Allen said.
Her father, John Allen, is also a big source of advice, Aubrey Allen said. They have a cage at home and are constantly reviewing ways Aubrey can improve together.
"She just doesn't quit," John Allen said. "She doesn't have the word 'no' in any single bone in her body."
John Allen's been involved with his daughter's development in the circle from the beginning. He said he's always been impressed by the way Aubrey attacks her pitching.
The hurler takes lessons with Krystle Lawson of Elite Pitching Academy when she's not playing high school or travel ball.
"Her mother and I told her, 'The minute you start complaining about pitching, we're not gonna pay for lessons anymore," John Allen said. "And that has never come. She just keeps evolving, she learns, she watches college players and she learns from that. She listens to her coach, she's a very good listener as well. I guess the one word you're looking for here is driven. We don't have to motivate her to do anything."
Segrest said the important thing for Aubrey Allen now is to maintain the work ethic she's had over the past few years. He expects her to be an effective pitcher at the collegiate level.
Allen is currently committed to play for the University of Montevallo in Montevallo, Alabama.