With her final high school softball season inching closer and closer, Stanhope Elmore's Neci King wanted to make it official she will continue her playing career at Grambling State, a Division I program in Louisiana. King held her signing ceremony Thursday afternoon surrounded by her family, teammates and coaches and it did not take long for King to get emotional, going off her script to thank those in attendance.
"I want to thank the rest of the team for being there for me," King said. "Y'all just don't know how long you have carried me and I probably still wouldn't be playing if I wasn't playing with such a great group of girls."
Stanhope coach Virginia Barber said she talked with King about making the decision before the season started so King could stay relaxed and enjoy her senior year. King selected Grambling over offers from Alabama A&M, Southern Union and several other schools.
"(Grambling) coach (Nakeya) Hall was very delicate with me when I went for an official visit," King said. "She was more open toward me and told me I could be something for the school and that made me feel wanted."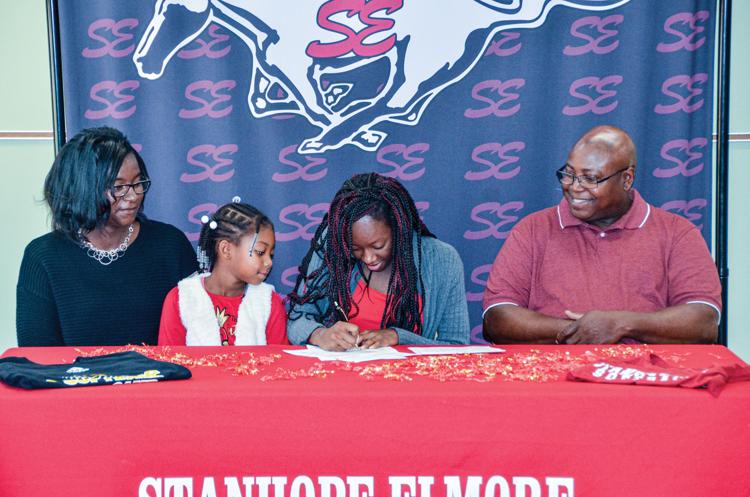 King is coming off a strong season as the Mustangs' leadoff hitter and ace pitcher. She finished with a .342 batting average and stole 29 bases while holding a 3.19 ERA in 129 1/3 innings pitched.
While there are not definite plans for what position King will play at the next level, she said she wants to play pitcher and middle infield for the Tigers. 
"The biggest thing for her is her IQ of the game," Barber said. "She knows the game really well and she can do it all. That really makes her stand out. She's still our No. 1 pitcher so that's where we will utilize her still but she can play anywhere."
King said she knows she will have to put in some extra work over the next year to prepare herself to play at the Division I level. Barber said she will not coach King any differently on the field but may start pushing her a little harder in the weight room.
Some extra work will come from King's time spent at the Elite Pitching Academy where she has trained for the last few years. Sherrell Matthews, another Elite Pitching Academy product at Autauga, recently signed with Grambling and King said that will help with the transition to the next level.
"That's my best friend," King said. "So yeah, that is awesome. We started off together and now we get to finish together."
King has stuck with Stanhope throughout her varsity career and Barber said that was a big deal for the team. Barber said the signing was big for the softball program at Stanhope and giving the players a chance to play at the next level is one of her favorite parts of coaching. 
"We knew for a while we could get her a D-I scholarship; it just was a question of where she wanted to go," Barber said. "When she went to Grambling a few times for camp, she just fell in love with the whole university."