Wetumpka senior infielder Jasmine Russell fulfilled a childhood dream on Thursday afternoon.
Russell, who plays both third base and first base for the Lady Indians, signed her National Letter of Intent to play college softball at Albany State University on Thursday. Albany State University is a public historically black university in Albany, Georgia.
Russell began getting college interest from several programs as a junior last year, but she quickly fell in love with Albany State after talking to the coaches and taking a visit to campus. Since the visit, coaches have remained in contact with her, and she knew that's where she wanted to be.
She committed to Albany State on November 5.
"I love the HBCU-type vibe and I just love the coaches because they love me," Russell said. "I can't wait. This has been a long ride and a long time coming. I feel like I deserve it and it's a really big achievement for me. I just pray that I keep this support system that I have for the years coming."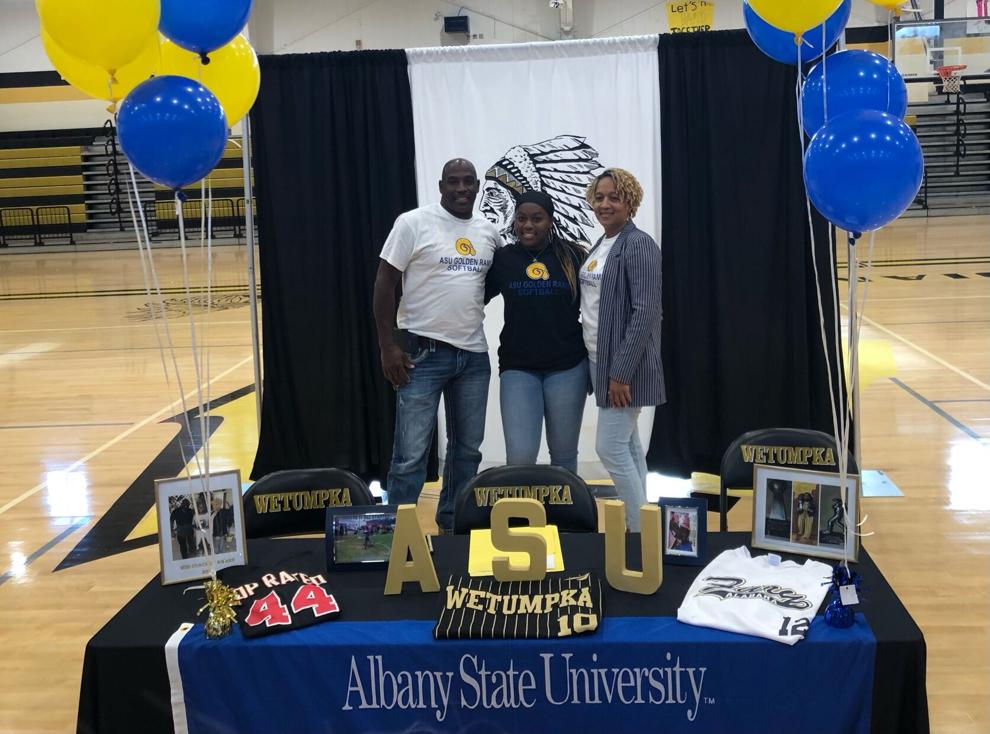 Russell primarily served as Wetumpka's starting third baseman before suffering through a few injuries last season. She was then moved to first base, but she continued to terrorize opposing pitchers at the plate.
As a junior, she played finished the season with a .333 batting average with a .415 on-base percentage with 49 total hits in 49 games. She showed her power at the plate and slugged 17 extra-base hits, which included 12 doubles, 1 triple and 4 home runs.
She also added 39 RBIs and scored 43 runs with six stolen bases. Her plate discipline was also showcased as she walked 14 times and only struck out 19 times in 171 total plate appearances.
Russell still has one more season left with the Lady Indians, but she feels like she is ready to play at the college level already. She said she plays with a lot of grit and love for the game, and she always plays with all her heart.
Wetumpka head coach Daryl Otwell agrees.
"The thing about Jasmine is that she's such a great teammate and a hard worker," Otwell said. "The way she plays and the way she works is a great player quality and what you need. At the next level, she's going to do a lot of good stuff and I can see her being really successful up there. She's really worked hard for this opportunity."
Albany State has seen some success during the past few seasons, but the Golden Rams will be under new leadership when the 2022 softball season starts. Albany State announced on November 3 that Jason Bryant has been named the new head coach for the team.
Bryant previously coached at Fort Valley State University and Brewton Parker College and has won over 400 softball games in his coaching career. He has also gathered four coach of the year awards in the various conferences he has coached in.
In his last stop, at FVSU, Bryant helped turn the program around greatly. In the two season prior to his hiring, the team went 6-57. In the four years that he was head coach, FVSU won 52 games.
Albany State will play its first full season this spring since 2019. Due to COVID-19, the Golden Rams have not played a full season in either of the last two years. They finished 4-14 last year with only an 0-2 record in conference play.
In the team's last full season in 2019, Albany State went 20-31 with a 16-2 conference record.