Entering Tuesday, only two teams had held Stanhope Elmore to two runs in a game this season.
Wetumpka pitcher Dawson Fuller took the bump against the Mustangs in an area game Tuesday and tossed 6.1 innings of two-run pitching, and with an offense led by Kyle Morrison that consistently contacted pitches, the Indians pulled away with an 8-2 victory.
"Whenever all your pitches are working, it's easy to get ahead and work around hitters," Fuller said. "Especially talented lineups like them. So I just got ahead, worked ahead and had all three of my pitches working."
Fuller picked up eight strikeouts in his outing to come out as the winning pitcher, and at one point retired 11 consecutive Stanhope hitters.
He struck out the side in the second inning, mixing in an overpowering fastball with breaking pitches to change the pace.
"He threw strikes," Wetumpka head coach Michael Dismukes said. "He got ahead of hitters and got the leadoff batter out a majority of his innings, and that always helps. He definitely threw the ball well today."
After Fuller had thrown 108 pitches and helped his team secure a six-run lead, Douglas Johnson came on to record the game's final two outs for Wetumpka.
Morrison came up a single short of hitting for the cycle in Tuesday's game, finishing 3-for-4 with four RBIs, a double, a triple, and a home run blast into right-center field that was so far gone Stanhope's outfielders simply turned and watched.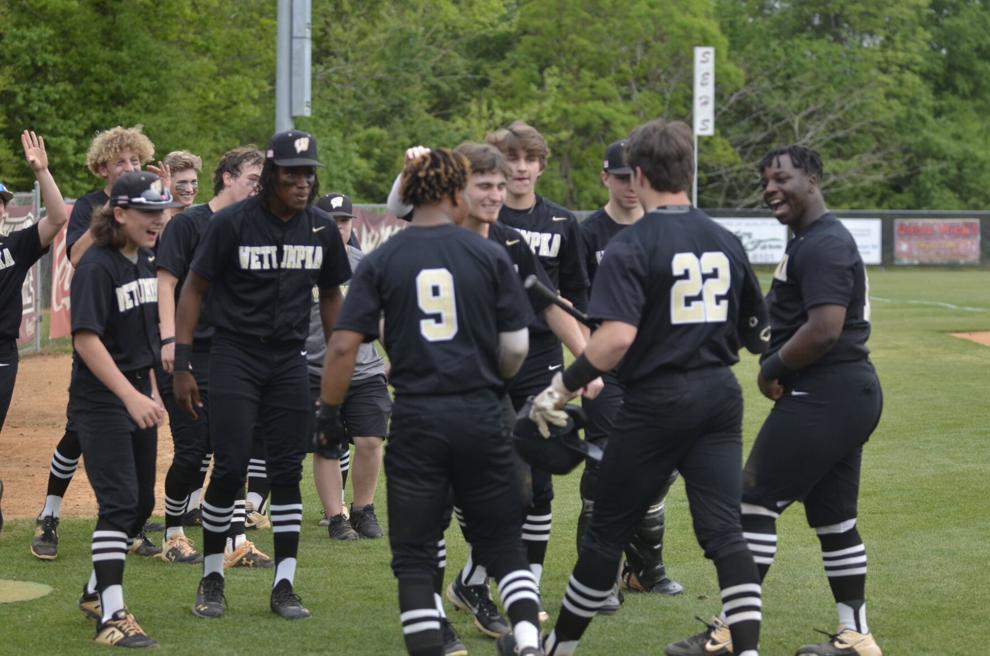 Outside of those louder hits, however, Dismukes said the key for Wetumpka was contacting the ball. The Indians put up six runs in four innings against Stanhope starting pitcher Colin Woodham, who boasted an ERA of 1.32 entering the contest.
Many of their base knocks came on grounders that escaped the infield.
"You're not gonna barrel a pitcher like the one we faced today all the time," Dismukes said. "You've just gotta put good at-bats together and put it in play. Good things happen."
Johnson batted in the game's first two runs on a two-out ground ball through the middle of the infield. Two hit-by-pitches and a fielder's choice that didn't result in any outs loaded the bases in the fourth inning for Morrison, who cleared them with a triple to put Wetumpka ahead 5-0.
Ty Brooks followed up Morrison's jolt with another single on a ground ball through the middle of the infield, and the Indians led 6-0. That lead never shrank below five runs.
Dismukes said that while opening the area series with a win is good, he told his team before the game that Tuesday's contest won't be the end of it one way or the other as the two sides will rematch Thursday with a double-header at Wetumpka. If Stanhope wins game two, the winner of game three will win the series and the area.
"We need to come ready to play, defense, offense and pitching," Fuller said.
PHOTOS: Wetumpka beats Stanhope to open area series