It has been a weird year for celebrating high school seniors across all sports. We have seen missed ceremonies, virtual celebrations and Senior Nights that happen on the first game of the year.
But that has not taken away any of the special moments that come with the Senior Night celebrations and that was on full display during Edgewood's home game against Cornerstone on Tuesday night. The Wildcats honored nine seniors across their two varsity programs before the games got started but for one of those seniors, the night was about to get even more special.
Carson Peevy suffered a torn ACL early in the season and it was seemingly clear his career on the basketball court for the Wildcats was over. He did not take that lying down though and kept pushing for just one more chance to share the court with his teammates.
"He came to me the game before and he kept saying he wanted to play," Edgewood boys coach Chad Michael said. "But I said absolutely not. I told him I can't do that. It's my job to protect you as an athlete."
Peevy said he understood where his coach was coming from and that decision seemed to be set in stone but he got his first glimmer of hope a few days later when Michael came back to tell him to get permission from his parents before doing anything. One email later, the plan started falling in place.
"I really thought about him and what he's done for the school," Michael said. "He's just such a great kid and he deserved to have the opportunity to have his name called one more time. I guess you can say he kind of talked me into it. It really just had to do with Carson and the type of kid he is."
The day after that decision was made, Peevy was announced in the team's starting lineup for the first time since the third game of the season.
When the Wildcats got the ball for the first time, they ran a play for Peevy to take a 3-point shot attempt but it was off the mark and Peevy went back to the bench at the next dead ball. However, the 20 seconds on the court were still just as special without the shot going in.
"I think a lot of people were surprised," Peevy said. "I hadn't advertised it so when the decision really came, they were happy to see me play… It was surreal. I just tried to take in every moment I had."
Michael said it was a little nerve wracking when Peevy was on the court even though it was for just a moment. Peevy returned to the bench safely as the plan went off without a hitch but that was not the end of the night.
When the Wildcats got a commanding lead, Peevy once again began talking to his coach about letting him back in the game just one more time and what first started as a joke became another moment to remember for the senior.
"I think he was kind of surprised," Michael said. "We got up and they were starting to foul us still with about 30 seconds to go. So I looked down the bench and said 'Peevy, you're up, let's go.'"
The bench got excited all over again as did the rest of the gym once they realized what was happening. With a victory in hand, Peevy got to get back on the court to experience one more win with the Wildcats.
"This game is about them," Michael said. "It's about the athletes and the school and what they represent. When he got hurt, it affected the entire team. For all of them to share that moment with him, it's what sports is all about."
But once again, the night was not over for Peevy as his moment to remember was just arriving. In the final seconds of the game, Edgewood's Caleb Justiss grabbed a rebound and quickly got the ball into Peevy's hands before a Cornerstone player fouled him with two seconds remaining to send Peevy to the free throw line for another chance to get on the scoresheet.
"I have never seen Carson nervous since I've been here," Michael said. "But when he stepped up, you could see in his face he was nervous. That first free throw barely hit the rim. I thought it would be an air ball."
It felt like everybody in the gym was rooting for Peevy's second free throw to go in but that did not make him any less nervous as he faced the final shot of his high school career. He took a deep breath and sank the free throw to cap off Edgewood's win.
"The whole gym was completely silent which is hard to experience some time," Peevy said. "It put a lot of pressure on it… I was shaking. To have that extra point go in, it made it even better."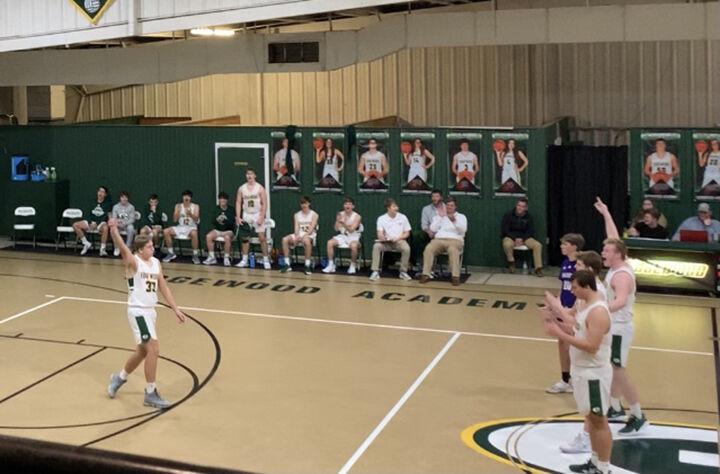 The Wildcats are finishing up area play and with the postseason on the horizon, Peevy knows his time on the court has come to an end. However, that does not stop him from trying to make an impact on the team as he continues to attend every practice and game while still taking on an active role from the bench.
"My role is more of a coaching aspect now," Peevy said. "I feel like I know a lot about the game. We have a young team so I feel like I bring a lot of wisdom and experience."