On July 26, Wallsboro resident Heather DeLauder began one of the toughest fights of her life against invasive mammary carcinoma breast cancer. But she does so with a strong village in her corner.
Diagnosed in her right breast in June, DeLauder said the presence of the HER2 growth-promoting protein is what makes her cancer invasive. She will receive chemo treatments once a month for the next five months. DeLauder's particular chemo cocktail caused her to begin losing her hair 23 days after her first treatment.
"It started falling out in clumps," DeLauder said. "If you rub your hands through it or pull on it just a little bit, it comes out. I've already lost 7 pounds and the steroids make me hungry and irritated."
The effects of the chemo begin to wear off after about three weeks, but then it's time to undergo another treatment, she said. Depending on how the cancer responds to chemo treatments, DeLauder said she will undergo a lumpectomy or mastectomy in an effort to remove any remaining cancer.
But in the midst of the hardest time of her life, she remains hopeful.
"Cancer is no longer a death sentence in 2021," she said. "Now there's a drug just for women who are HER2 positive. The science behind it is amazing. I feel like I can handle it. I'm very determined and hopeful. I'm not going to let this steal my smile. I can't give up."
Her greatest motivation to never give up is her 16-year-old daughter Misty who is a student at Wetumpka High School.
"She's been so strong through this," DeLauder said. "She's helpful and does whatever I ask her to do, but I know it's hard for her to see her mom going through something like this."
Outside of her daughter, DeLauder, a hair stylist at Shear Envy Hair Salon and Boutique, said her work family and those she's met in the three years that she's lived in Wetumpka have been her greatest support system. Besides her daughter, the only other relative the Louisiana native has in Alabama is a grandmother in Helena.
DeLauder moved to the area with her husband who left her just as she was getting diagnosed. He now lives in Montana.
"He knew about my cancer but he decided to run from responsibility," she said.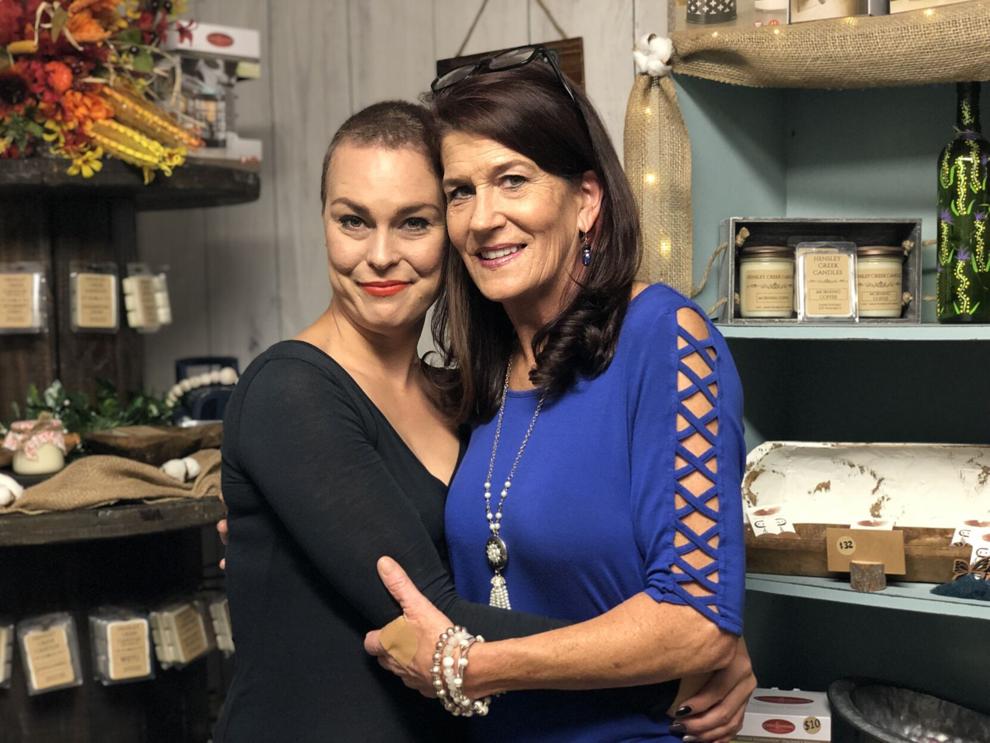 After learning of DeLauder's diagnosis and the fact that she was now a single mother, Shear Envy owner Julie Bridgman knew she wanted to find a way to help.
"The way that I look at it, God removed him from her life," Bridgman said. "God knew he wouldn't be able to handle it. She needs people around her who will find ways lift her up. I knew we wanted to do something to help raise money for her and it was a no-brainer to ask April."
Bridgman approached April Hensley, owner of Hensley Creek Candles, with an idea to create a line of candles that would benefit DeLauder.
"As soon as I heard her story, I said, 'I have the perfect jar!'" Hensley said.
Hensley has been harboring a stash of hot pink jars because that's her favorite color, but the color doesn't exactly fit in with the rustic aesthetic of her candle company.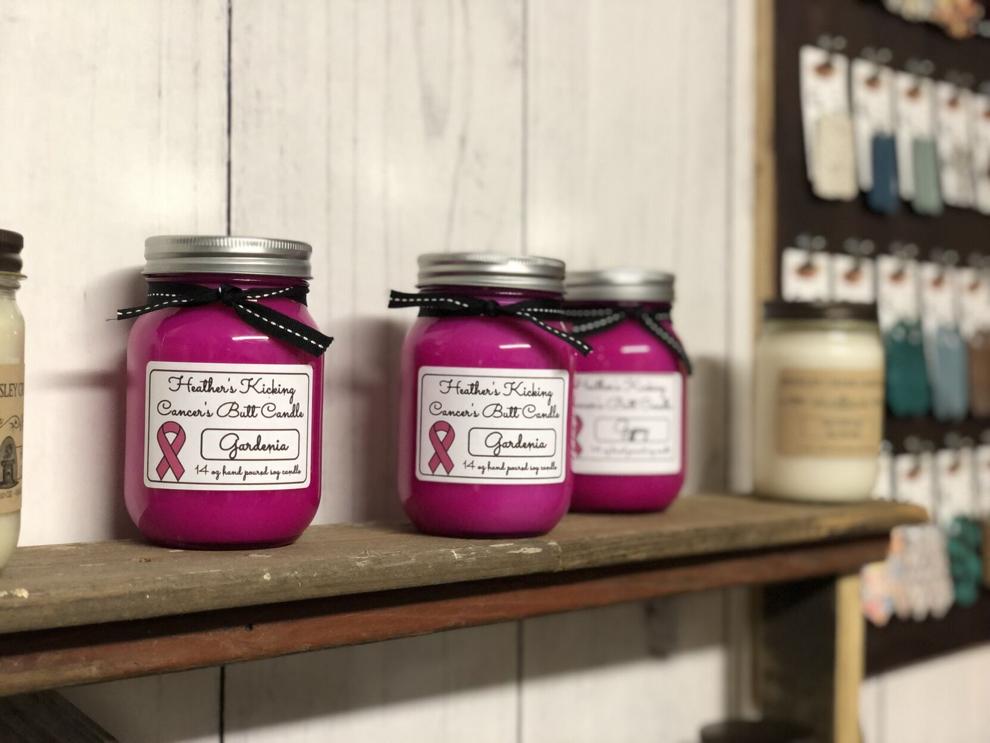 "I just loved the color and decided I would hold on to the jars until I could use them for something amazing," Hensley said.
The Heather's Kicking Cancer's Butt Candles feature a different scent every week and are sold for $20 at Hensley Creek Candles, 10940 U.S. 231, as well as at Shear Envy, 7332 U.S. 231. The candles will be sold for an indefinite amount of time.
The scents created are based on what DeLauder likes. So far, there have been floral scents like Gardenia, Jasmine and a Peony and amber wood combination. Hensley also created a scent called Gypsy that has a tea olive scent base. Hensley said she's got a list of several scents to go through.
"I had to call and get refills before the end of the first week," Bridgman said. "We started out ordering six but we're going to increase it to 12 to keep up with the demand. There are so many people who want to help Heather."
One hundred percent of the proceeds are deposited into a bank account set up for DeLauder at Valley Bank. Although she's still working right now, there will likely come a time when she won't be able to work for an extended period.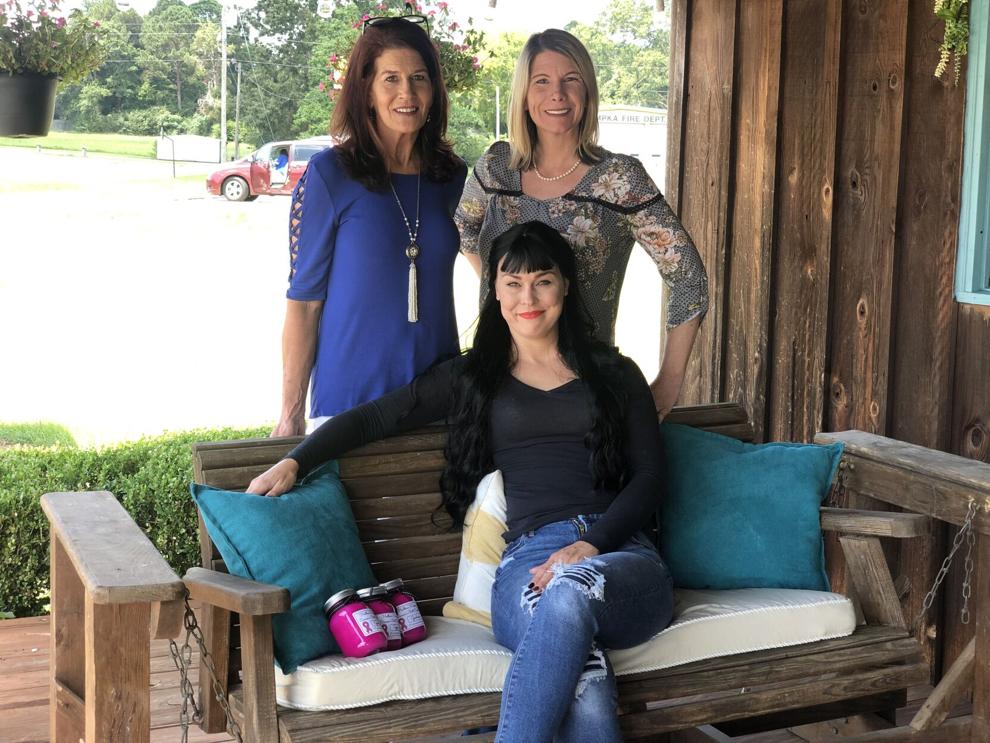 "Our plan is to raise enough money so that she and her daughter can be comfortable and she can still pay her bills while she's not working," Bridgman said. "She's doing okay right now, but at some point in the future, she's looking at surgery, which will mean even more medical bills and not being able to work."
Hensley and Bridgman aren't the only people in the community rallying to help. Wetumpka's VFW Smith Leonard Post 4572 hosted a barbecue on Aug. 7 that raised $1,600 for DeLauder.
"I just get the biggest heartwarming feeling with so many friends and even strangers opening their arms to me," DeLauder said as she fought back tears. She had managed not to cry up until this point, but she becomes overwhelmed with emotion thinking about the love she's received from this community.
"Ms. Julie, that's my rock," DeLauder said. "I have a second mom in her. I don't think I've even gotten the same response back home as I have here."
"Her struggles are our struggles," Bridgman chimed in. "When she hurts, we hurt. Everything that she's going through, we're by her side going through it with her. And the community has been amazing. What we're seeing right now are the hands and feet of Jesus."