Members of Wetumpka High School's robotics team have once again put their skills to good use by helping children with special needs.
A group of 13 students from the 60-plus person team volunteered their time and talents to help two children and their families. On Thursday, April 15, the students and their teacher Dr. Virginia Vilardi presented 7-year-old Jaiden Morgan with an adapted motorized car and 5-year-old Kerrington Thornton with an adapted walker.
Walter Morgan Jr., Jaiden's father, said his son has always wanted a bike or a motorized car, but it's difficult to find adapted toys for children with special needs. Jaiden was born with spina bifida, which that occurs when the spine and spinal cord don't form properly, and hydrocephalus, a build-up of fluid in the brain. As a result, Jaiden is paralyzed from the waist down.
"We'd been looking for something, other than his chair, for him to get around in," Morgan said. "We wanted something that he can have fun in and feel like a big kid. As a parent, it makes me feel good. He's excited. He's been talking about it for the past couple of days. He's always said that he wanted a bike or a car."
Morgan said he heard about the WHS robotics team from a friend, Keith Lucy, who is a WHS agriscience teacher. Shortly after reaching out to Vilardi, the Morgan traveled to WHS from their home in Demopolis so that students could get measurement of Jaiden and create a plan on how best to help.
WHS senior Avery Pyles said the team was tasked with removing and rewiring the pedal acceleration function in the car and designing and wiring the stirring wheel to include an acceleration button. Eleventh-grader Hillary Lopez said a customized seat was made for Jaiden using thick memory foam for added back, neck and head support.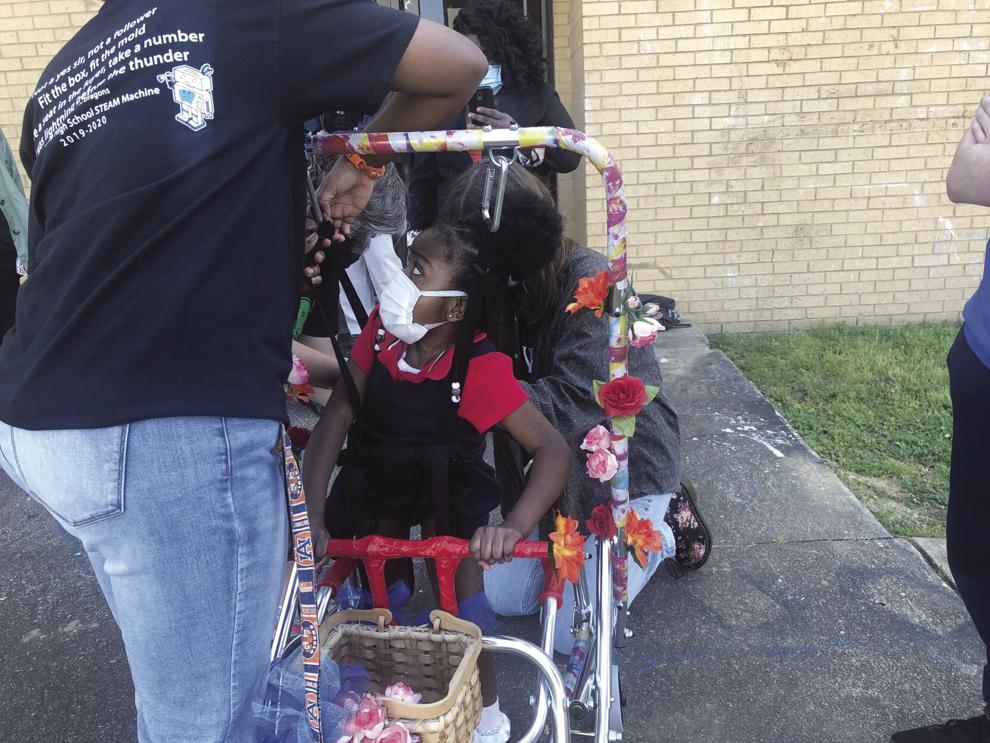 For Kerrington, students adapted a walker to meet her needs. Eleventh-grader Serena Ward said the front wheels were modified and PVC pipes were added to create handles. The walker included a harness and was finished off with floral decorations. The walker can also be placed on a treadmill to help her learn to walk.
Kerrington's mother said the 5-year-old is diagnosed with cerebral palsy, which was caused by being born 16 weeks early at 24 weeks gestation. At birth, she weighed in at just 1 pound, 8 ounces. Kerrington spent 316 in the hospital.
Her mother said she's progressing well. Kerrington's trach was removed in June 2020 and she started kindergarten this school year in Montgomery. Now the focus is on teaching her how to walk, which her doctors are confident that she will learn.
Both sets of families expressed their appreciation for the WHS robotics team and the hard work they put in to help Jaiden and Kerrington.
"The students have said that they feel these have been the most worthwhile projects they've worked on," Vilardi said.
The car and walker are given to the families at no cost to them. The robotics students fundraise to able to purchase everything they need to complete the projects. The team has now helped a total of three families.
The 13 students who participated were: Pyles, Lopez, Ward, Michael Fulmer, Luke Sipper, Hannah Beumer, Ray Unger, Nathan Fletcher, Alan Estrada, Chase Burbank, Bailey Worrell, Brody Worrell and Allen Wright.