Three Edgewood Academy seniors were honored at the school's Military Recognition Day ceremony on Tuesday, May 4, for the decision they made to enlist in the United States military.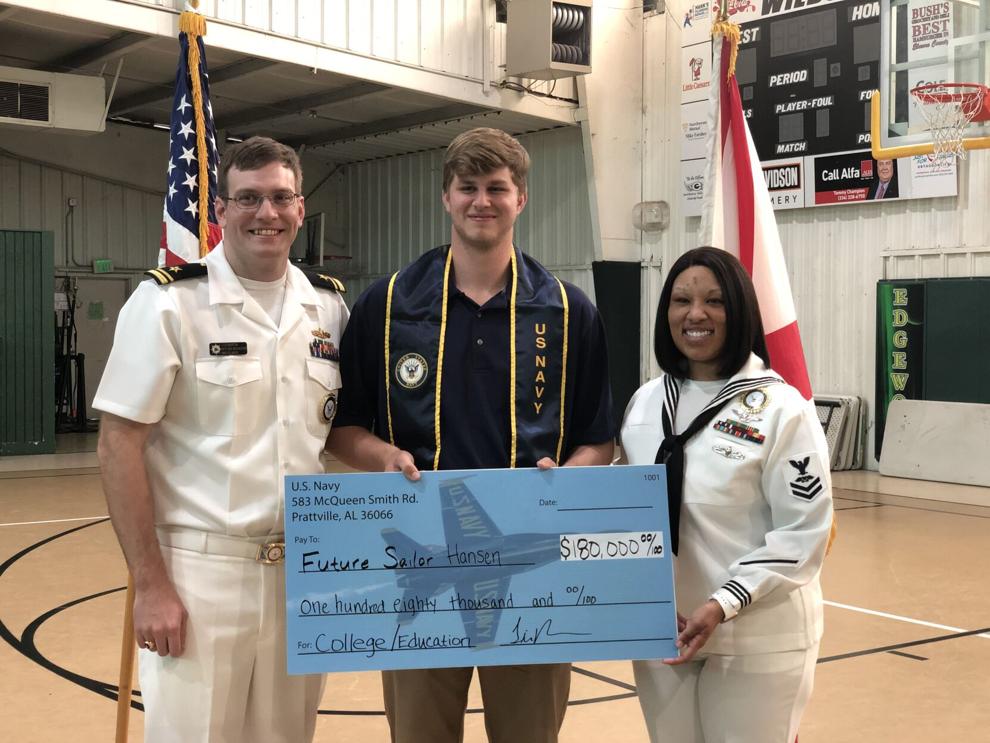 Caleb Justiss, Joseph Benton and Drew Hansen took their Oaths of Enlistment in the Wildcats gym before an audience of their peers, teachers, administrators and parents.
Friends since the fifth grade, Justiss and Benton decided to embark on their journey together in the Alabama Army National Guard as wheeled vehicle mechanics. After going to take the ASVAB test together and both scoring well, Benton and Justiss decided enlist together.   
"Having a friend to go with made the decision to enlist a lot easier for us," Benton said, who is the son of Roger and Jamie Benton.
They leave for 10 weeks of basic training at South Carolina's Fort Jackson on May 24. Afterward, they will report to Fort Lee, Virginia where they will complete 13 weeks of Advanced Individual Training.
Like Hansen, joining the military is a family tradition for Benton. Benton and Justiss were recruited by Benton's older brother, Sgt. Jon Benton, who was in attendance at the ceremony. The oldest Benton brother, Col. Brad Benton, was also in attendance to watch his younger brother get sworn in.
"It's an honor and a privilege to get to see younger generations follow in our footsteps," Col. Brad Benton said. "And in this case, it really is a family tradition. Our mom, dad, grandfather and a lot of our aunts and uncles all served."
Justiss, son of Brian Justiss and Lynnes Justiss, said being around his friend's family for so many years opened him up to the idea of joining the military.
Hansen enlisted into the United States Navy where he will serve as an aviation structural mechanic, fixing and maintaining airplanes. He's set to leave for eight weeks of basic training at Naval Station Great Lakes on July 19. Afterward, he will go to Pensacola, Florida for specialized training.
"The pilots who fly these aircrafts will trust Drew with their lives as they take off into the skies to complete their various missions," said Lt. Lucas Benton of the U.S. Navy (no relation to Joseph Benton).
Hansen, the son of Clint and Liz Hansen, said joining the military has always been something he's had a desire to do.
"Both of my brothers went to the military and I've always wanted to join as well," he said.
Hansen's recruiter, Petty Officer Tia Moore, said he entered the recruitment process determined and sure of what he wanted to do.
"He knew what he wanted and knew the plan he had for himself," Moore said. "He's a determined person. It was a pleasure working with him and I'm excited to see his journey unfold."
Hansen was also presented with a check for $180,000 representing the GI bill, which will cover expenses associated with attending college.