When Elmore County NAACP President Bobby Mays first got the call about a billy club that was used by an Alabama trooper during Selma's Bloody Sunday in 1965, his first thought was that it should be engulfed in flames.
"After some thought, I felt it would be best to take it somewhere where it could be displayed as an artifact," Mays said. "I recognized that my thought was impulsive. It needs to be preserved rather than burned."
The billy club came with a short letter: "This baton was carried by reserve Alabama State Trooper Fred R. Brown on the Edmund Pettus Bridge in Selma, Alabama on March 7, 1965 (Bloody Sunday). Trooper Brown was from Birmingham and is now deceased."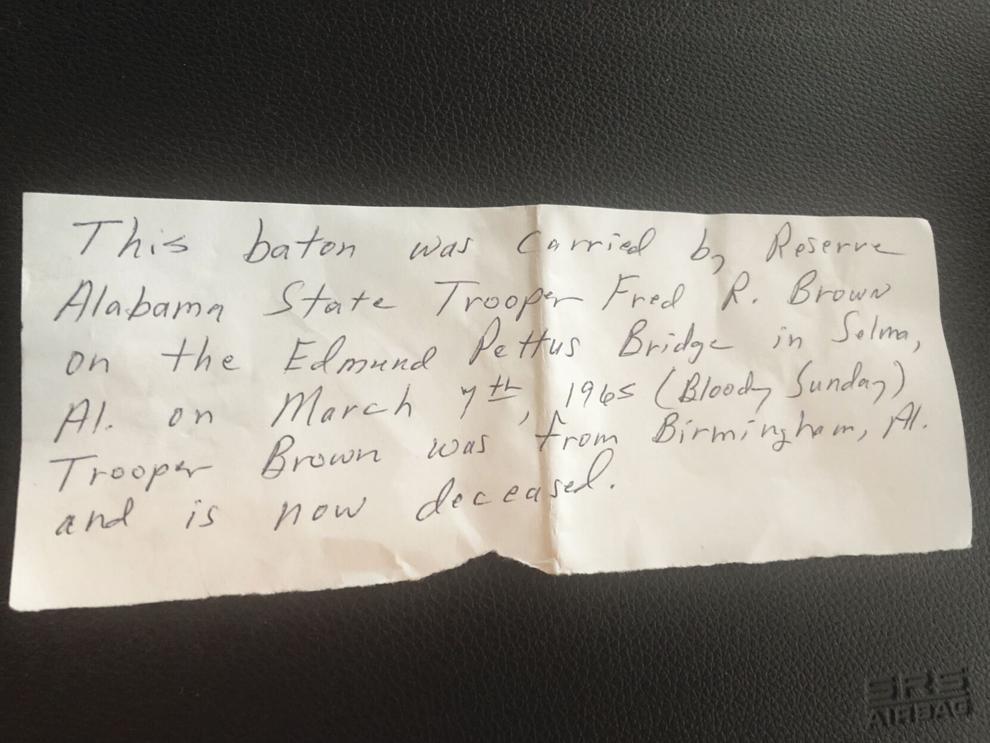 The man who contacted Mays was aware of his position with the Elmore County NAACP and thought he might be able to help. Mays' contact went on to tell him about Brown and his participation in the Selma to Montgomery march for voting rights in 1965. The day became known as Bloody Sunday because of the violence that ensued against protesters as they tried to cross Selma's Edmund Pettus Bridge.
"I was told that this trooper used his billy club to help keep people back and to repel them," Mays said. "He didn't say specifically that the billy club was used to beat people, but knowing what I know about Bloody Sunday, none of those troopers were using gentle force. This billy club and others like it wreaked a lot of damage on folks back in 1965."
On Bloody Sunday, roughly 600 marchers faced attacks from state troopers as they marched in protest against racial injustice. Troopers wielded clubs and cattle prods and used tear gas on the protestors. Fifty-eight protestors were treated for injuries at a local hospital.
Sometime between Bloody Sunday and Brown's retirement from law enforcement, he had a change of heart and realized his actions were wrong.
"Somewhere along the way, he had a 'come to Jesus' moment," Mays said. "My guy told me that after this trooper retired from law enforcement, he entrusted the billy club to him. He said the trooper gave it to him because he trusted him to do something worthwhile with it."
Mays' contact held on to the billy club for a number of years, unsure of what to do with it.
"He decided to give it to me because he thought that I would be able to find a suitable home for it," Mays said.
On Saturday, April 3, Mays met with Alabama Sen. Hank Sanders in Selma to pass the billy club off to him. It, along with the letter, will be displayed in Selma's National Voting Rights Museum and Institute.
Mays said his feelings about the situation are two-fold.
"First, shame on him for participating in what took place on Bloody Sunday," Mays said. "He was sworn to protect and he didn't do that. But I'm also grateful that he had a change of heart and came forward to try to right his wrong in some kind of way. This is evidence that he did try to make it right between him and his maker. There is forgiveness there because we all make mistakes, no matter how big or little."
Mays said he finds it ironic that he came across this piece of American history around the same time that multiple states are passing or proposing legislation that weakens the Voting Rights Act of 1965 -- rights that many shed their blood for.
"Not only that, the atrocities that took place in 1965 are still happening today," he said. "I want more people to come forward and stand up for what's right."